News
Strategie von LEGO
Hardware möglichst lange unverändert lassen und dafür die Software und die Zusatzmaterialien ständig anpassen und verbessern.
Downloads (passwortgeschützt)
Wo finde ich das Tagebuch, die Bilder und die Filme
C:\Users\heinz\AppData\Local\Packages\LEGOEducation.LEGOEducationWeDo2.0FULL_by3p0hsm2jzfy\LocalState
WeDo 2.0 - more Android devices recommended
Mail von Gary Jones vom 22.011.2016:
Regarding Android devices and WeDo 2.0 software
We have updated the Android software to fix the issue we have experienced including connection to the Hub. The new software version is live in Google play.
We have tested more Android devices with the updated software and are happy to inform you, that all these devices run the software. The recommended device list are now updated on our web page.
We can unfortunately not give further guarantees on Android devices for now. Many other Android devices may run the software if they live up to the minimum system requirements.
If a customer have an Android device that is not on our recommended list we advise you, that the customer test it with the WeDo 2.0 software and a WeDo 2.0 Hub to check the Bluetooth connection.
Please see a copy in the appendix of the information going live between 18th – 25th November on the LEGO Education web for Android System requirements.
Please feel free to discuss this with your LEGO Education Sales Manager if you have any questions or concerns.
 Android Tablet
Hardware
Android tablet with Bluetooth low power technology
Camera
8" display or larger
Operating System
Download available from Google Play.
IMPORTANT NOTE REGARDING ANDROID COMPATIBILITY
Even if your tablet meets the minimum specifications above, we cannot guarantee that your device will pair successfully with WeDo 2.0. For a list of fully tested and compatible Android tablets, please refer to the list below, which we will update as we test other devices.
Model:
Acer / Iconia One 10 / B3-A20 A5008 / Android 5.1 / Bluetooth 4.0
Asus / Memopad 8 / K01H / Android 4.4.2 / Bluetooth 4.0
ECS / Classroom PC / TF10EA2 / Android 5.1 / Bluetooth 4.0
HTC / Nexus 9 / OP8220 / Android 6.0 / Bluetooth 4.0
Lenovo / Tab 2 / A8-50F / Android 5.1 / Bluetooth 4.0
Lenovo / Yoga Tab 3 / YT-X50L / Android 5.1 / Bluetooth 4.0
Samsung / Galaxy Tab A / SM-T550 / Android 5.0.2 / Bluetooth 4.0
Samsung / Galaxy Tab E / SM-T560 / Android 4.4.4 / Bluetooth 4.0
Samsung / Galaxy Note 10.1 / SM-P600 / Android 4.4.2 / Bluetooth 4.0
Projektdateien speichern, zügeln und abrufen
Windows 10 (Laptop)
Zuerst muss sicher gestellt sein, dass versteckte Ordner angezeigt werden. Anleitung: Systemsteuerung -> Explorer Optionen -> Ansicht -> versteckte Dateien und Ordner auf «ausgeblendete Dateien… anzeigen» -> übernehmen -> OK
Danach sind die zu den Projekten gehörenden Dateien und Ordner unter folgendem Pfad zu finden:
C:\Users\Name User\AppData\Local\Packages\ LEGOEducation.LEGOEducationWeDo2.0FULL_by3p0hsm2jzfy\LocalState
Aus diesem Ordner müssen pro Projekt jeweils ein Ordner mit dem Bild des Programms (im Programmiereditor) und die Projektdatei kopiert oder gezügelt werden. Im unten stehenden Beispiel sind im Ordner LocalState zwei Projekte gespeichert. Zum Projekt ...49f29 gehört  die Projektdatei ...49f29.proj und der Ordner ...49f29, in welchem das Bild des Programms abgelegt ist. Das zweite gespeicherte Projekt heisst sinngemäss ...bc5d0.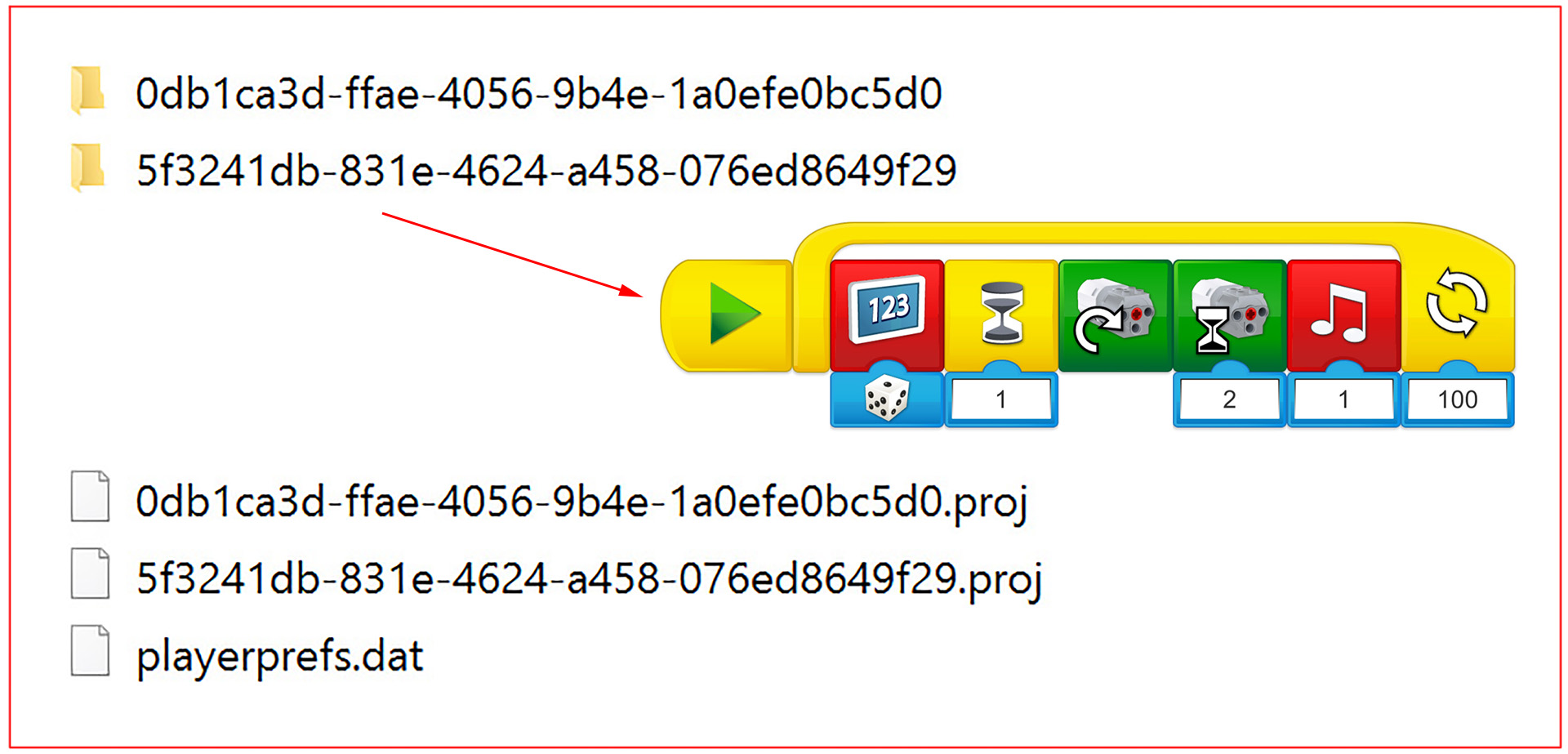 Details
Admin-Bereich
Aktualisiert am 30.03.2018